Benefits of NeoGraft FUE Hair Replacement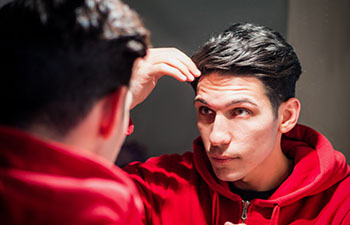 Hair transplant surgeries have been attempted for over three-quarters of a century, revealing how important hair is to the human experience. The procedures used have dramatically improved, especially in the last decade, creating more natural results with less invasive surgery. One of the most innovative hair restoration methods is with the NeoGraft® FUE system, a scarless and automated form of follicular unit extraction (FUE).
NeoGraft is one of the newest methods of hair transplantation that offers more precision for hair follicle removal and transfer. There are no surgical incisions needed, which means no linear scars as is usual with follicular unit transfer or transplants (FUT). Unlike manual FUE procedures, NeoGraft uses robotic, semi-automated technology. The device is operated by a physician to perform hair transplant surgery, using pneumatic tools to harvest hair grafts and insert them in the desired areas.
Advantages of NeoGraft FUE Surgery
NeoGraft FUE hair replacement combines precision robotic technology with efficiency for superior hair transplant results. The semi-automation element eliminates possible human errors and can reduce the risk of complications, especially compared to FUT procedures. Some of the benefits of NeoGraft include:
No linear incisions or stitches
Quicker recovery and less downtime for the patient
No linear scarring
Less trauma to hair follicles resulting in higher survival rates
Faster than traditional FUE procedures
The precision placement of the transferred hair grafts can create natural results. Whether you are addressing a receding hairline or want to undergo a beard/eyebrow transplant, NeoGraft can create beautiful, natural results. Without large incisions, the recovery is shorter and more comfortable without the lasting scars on your scalp.
While NeoGraft is an automated system, the placement of the hair grafts is dependent on the physician operating the device. Dr. Obaid Chaudhry is a highly skilled plastic surgeon that has extensive experience creating wonderful aesthetic results with hair transplantation and other cosmetic procedures.
If you are interested in minimally invasive hair transplantation with NeoGraft FUE, come see us at Elite Hair Transplant Center. We offer NeoGraft FUE, as well as other hair restoration procedures, at our facility in Beverly Hills, CA.