Welcome to Elite Hair Transplant Center
Hair plays an important role in your appearance and self-confidence. If you have been hiding your thinning or receding hair under hats and scarves, it may be time to explore hair restoration solutions. At Elite Hair Transplant Center, Dr. Obaid Chaudhry and our hair restoration team are here to help you find the best option to achieve fuller, thicker hair with our advanced transplant procedures.
Dr. Obaid
Chaudhry
Dr. Chaudhry is a highly respected, board-certified plastic surgeon with extensive experience in aesthetic transformation. He utilizes cutting-edge cosmetic procedures to give his patients stunning, natural-appearing outcomes. For hair restoration, he offers meticulous hair transplant options that give his patients back their own natural hair. Whether you want to combat a receding hairline or you are interested in facial hair transplants, you can find the hair restoration services you desire at our beautiful center in Beverly Hills, CA.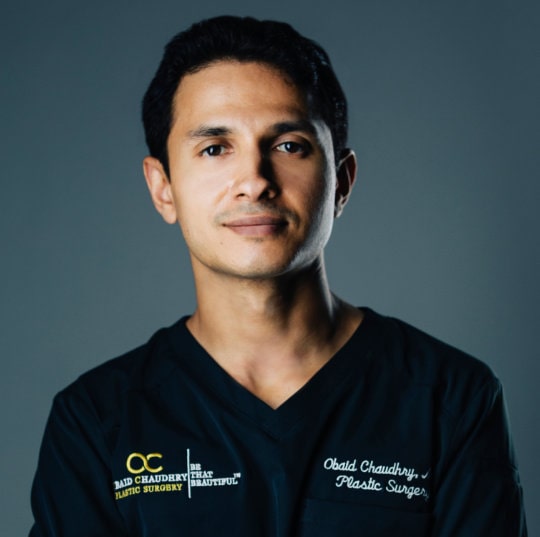 Advanced Hair Restoration Procedures
at Elite Hair Transplant Center
While many hair restoration clinics only offer one option for hair transplant, Dr. Chaudhry understands every patient has unique needs. Our hair transplant and adjunct procedures use the latest technology to provide excellent results for our patients. We offer scarless hair transplant procedures that are less invasive, as well as innovative treatments to stimulate faster hair growth. From growth factors scalp injections to FUT and NeoGraft® FUE hair transplant surgery, you can find the hair restoration treatment you desire at Elite Hair Transplant Center.
The advanced hair transplant technology we use can give you back a thicker head of hair or provide you with the beard you always wanted. Whether you have experienced hair loss due to aging, genetics, health conditions, injuries or other factors, you may be able to achieve gorgeous results through a hair transplant procedure. Dr. Chaudhry and our team at Elite Hair Transplant Center are here to help you find the right option to improve your hair appearance and boost your confidence.
HAIR TRANSPLANT FREQUENTLY ASKED QUESTIONS
In this day and age there is no reason to be bald. Today's hair transplant and hair restoration technology will allow us to restore your hair and give you your self-confidence back. At Elite Hair Transplant Center in Beverly Hills we have answers to all of your frequently asked questions. To learn more please visit our FAQ page.
Take The First Step Today!
When you are ready to explore the latest options in hair restoration and replacement, come see us at Elite Hair Transplant Center. We are dedicated to providing patient-centric care at our elegant clinic in Beverly Hills, CA. Contact our office to schedule a hair restoration consultation with Dr. Chaudhry and begin your journey to obtaining beautiful hair.
Notice to patientsopen payments database
For informational purposes only, a link to the federal Centers for Medicare and Medicaid Services (CMS) Open Payments web page is provided here. The federal Physician Payments Sunshine Act requires that detailed information about payment and other payments of value worth over ten dollars ($10) from manufacturers of drugs, medical devices, and biologics to physicians and teaching hospital be made available to the public. You may search this federal database for payments made to physicians and teaching hospitals by visiting this website:
https://openpaymentsdata.cms.gov/