Facial Hair Replacement Options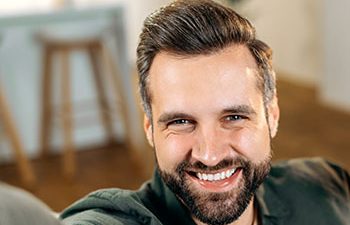 When many people think of hair transplant procedures, they assume the hair on the head is being replaced. Hair transplant surgery is primarily used for filling in balding areas, receding hairlines or thinning crowns on the head, but those are not the only uses. With the advanced options in individual hair follicle transfers, facial hair can also be enhanced. At Elite Hair Transplant Center, we offer beard and eyebrow hair transplant procedures for our patients.
Beard Transplant
Not everyone is blessed with a thick, full beard. Facial hair is dependent on many elements, from genetics and hormone balance to skin health and injuries. Beard hair transplant surgery is used to fill in areas on the face with thin or no facial hair. The hair grafts are harvested from the scalp, usually in the back of the head where hair is thicker. Most beard transplants only require a few hundred hair grafts to create the desired result.
Beard transplant candidates are usually individuals who are in their mid-20s or older. It is important to ensure that the full beard has come in before performing a transplant procedure – you do not want to remove hair grafts you may want later for a hair transplant surgery for the scalp. Patients often have a patchy or uneven beard, or facial injuries or scarring that has disrupted hair growth.
Eyebrow Transplant
Shapely eyebrows enhance the eyes and facial appearance. Many people are born with thinner eyebrows and may want enhancement. For others, aging, chemotherapy, hormone changes, overplucking and other factors can result in thin or non-existent eyebrows. An eyebrow transplant can create natural-appearing eyebrows using hair from your scalp, similar to the beard transplant procedure.
Both beard and eyebrow transplant procedures are best performed with follicular unit extraction (FUE). The NeoGraft® FUE system we use at Elite Hair Transplant Center offers efficient hair transplant results without incisions, stitches or linear scars at the harvest area on the scalp.
If you are interested in replacing facial hair with a hair transplant procedure, come visit us at Elite Hair Transplant Center. We are Beverly Hills' premier hair replacement and restoration clinic for outstanding results.